Events
Below are our currently scheduled events. Please check back for regular updates.
If you would like to be added to our events list, or if you would like to inquire about collaborating on a custom tour, or a special or space rental event, please contact us and specify your interest.
Upcoming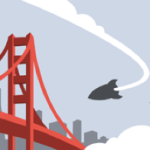 SF in SF: 
Sunday, November 19, 6:00 pm
Join us on Sunday, October 29th, for a lively evening of reading and discussion with authors Annalee Newitz and Robin Sloane, moderated by Bay Area author, editor, and raconteur Terry Bisson.
Annalee Newitz writes about "science, culture, and the future." Now Tech Culture Editor at Ars Technica, she was the founding editor of io9, and editor-in-chief of popular tech site Gizmodo. I'm the author of Scatter, Adapt and Remember: How Humans Will Survive a Mass Extinction (Doubleday and Anchor), which was a finalist for the LA Times Book Prize. Her first science fiction novel, Autonomous, was released in September, 2017.
Robin Sloan's first novel, Mr. Penumbra's 24-Hour Bookstore, was a New York Times Best Seller, translated into more than twenty languages. His new novel, Sourdough, is about work and eating, robots and microbes, independence and ambition, and may be the first novel in English to feature, as a key supporting character, a possibly-sentient sourdough starter.
For over a decade SF in SF has offered readings, films, and special events in the Bay Area for readers of science fiction, fantasy, and speculative fiction. Hosted by Terry Bisson, past guests have included Connie Willis, Gene Wolfe, Laurie King, Nancy Kress, Lev Grossman, Patrick Rothfuss, Gail Carriger, Cory Doctorow, Peter S. Beagle, and many others. We hope you will join us!
$10 at the door (no one is turned away for lack of funds). As always, Borderlands Books will be on hand with copies of both authors' work.