Events
Below are our currently scheduled events. Please check back for regular updates.
If you would like to be added to our events list, or if you would like to inquire about collaborating on a custom tour, or a special or space rental event, please contact us and specify your interest.
Upcoming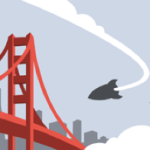 SF in SF: Special Women In Horror Event!
Sunday, October 29, 6:00 pm
Join us on Sunday, October 29th, for a lively evening of reading and discussion with authors Loren Rhoads, Erika Mailman, and Dana Fredsti, moderated by Bay Area author, editor, and raconteur Terry Bisson.
For over a decade SF in SF has offered readings, films, and special events in the Bay Area for readers of science fiction, fantasy, and speculative fiction. Hosted by Terry Bisson, past guests have included Connie Willis, Gene Wolfe, Laurie King, Nancy Kress, Lev Grossman, Patrick Rothfuss, Gail Carriger, Cory Doctorow, Peter S. Beagle, and many others. We hope you will join us!
$10 at the door (no one is turned away for lack of funds). As always, Borderlands Books will be on hand with copies of both authors' work.