Events
Below are our currently scheduled events. Please check back for regular updates.
If you would like to be added to our events list, or if you would like to inquire about collaborating on a custom tour, or a special or space rental event, please contact us and specify your interest.
Upcoming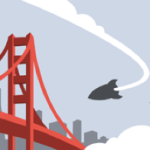 SF in SF: Kim Stanley Robinson and Cecelia Holland
Sunday, January 28, 2018 at 6pm
Join us on Sunday, January 28, for a lively evening of reading and discussion with authors Cecilia Holland and Kim Stanley Robinson, moderated by Bay Area author, editor, and raconteur Terry Bisson.
Kim Stanley Robinson  has published nineteen novels and numerous short stories but is best known for his Mars trilogy. His work has been translated into 24 languages. Many of his novels and stories have ecological, cultural and political themes running through them and feature scientists as heroes. Robinson has won numerous awards, including the Hugo Award for Best Novel, the Nebula Award for Best Novel and the World Fantasy Award. Robinson's work has been labeled by The Atlantic as "the gold-standard of realistic, and highly literary, science-fiction writing." According to an article in the New Yorker, Robinson is "generally acknowledged as one of the greatest living science-fiction writers."
Cecelia Holland is a grande dame of historical fiction who began writing at age twelve. Her first published work, The Firedrake, arrived in 1966, and since then she has written extensively in historical fiction, modern and speculative fiction, short stories, children's fiction, and speculative and factual nonfiction. One critic wrote, "What sets Cecelia's work apart in the genre is not just her productivity but also her versatility; she has the unique ability to make most any historical period her own."
Doors and cash bar open at 6:00 – Program begins at 6:30. 
For over a decade SF in SF has offered readings, films, and special events in the Bay Area for readers of science fiction, fantasy, and speculative fiction. Hosted by Terry Bisson, past guests have included Connie Willis, Gene Wolfe, Laurie King, Nancy Kress, Lev Grossman, Patrick Rothfuss, Gail Carriger, Cory Doctorow, Peter S. Beagle, and many others. We hope you will join us!
$10 at the door (no one is turned away for lack of funds). As always, Borderlands Books will be on hand with copies of both authors' work.