Exhibitions
Coming Soon
MUSUBU: Book Art Tokyo-California
April 7, 2018 – May 19, 2018
Musubu is a Japanese word that means: to tie, to connect, or to be bound by friendship. The exhibit intends to create binding ties between San Francisco Bay Area book artists and members of
the Tokyo Bookbinding Club.  
Past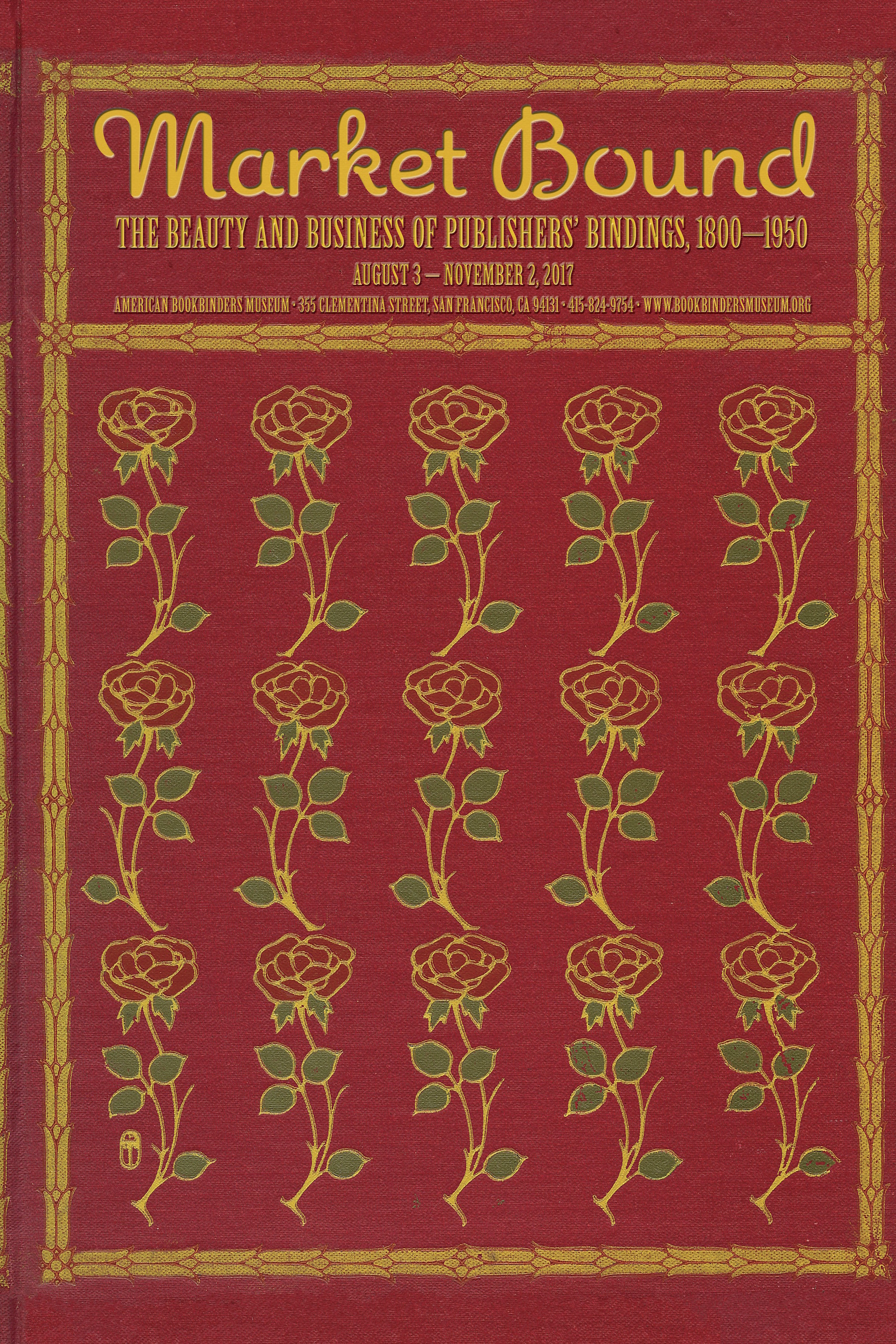 Market Bound: The Beauty and Business of Publishers' Bindings, 1800-1950
August 10 – November 2, 2017
In 1800 books were made as they had been for over a millennium: hand-sewn rag-paper pages with custom-made leather bindings. Within twenty years the industrial revolution had spread to bookbinding, allowing mass-production techniques that gave publishers their first opportunity to use book covers as advertisement for the material within.
Market Bound: the Beauty and Business of Publishers Bindings, 1800-1950, looks at the rise of the commercial book cover, meant to draw the eye, focused on diverse genres, and increasingly signaled the reader's taste and status. From children's books to encyclopedias, these mass-produced, uniform covers signaled an industry using new tools to reach a growing audience. Even today, their beauty and style enchant.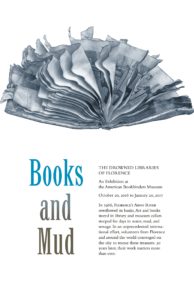 Books and Mud: The Drowned Libraries of Florence
November 20, 2016 – February 20, 2017
In November, 1966, the banks of the Arno River in Florence rose to record heights, breaking its embankments and flooding the city. Art and books stored in library and museum cellars steeped for days in water, mud, and sewage. In an unprecedented international effort, volunteers converged on the city to rescue these treasures. In celebration of the 50th anniversary of the Arno flood, the American Bookbinders Museum is pleased to host "Books and Mud: the drowned libraries of Florence," an exhibition examining and commemorating the "Mud Angels" and the tools and techniques that were created to reclaim and restore hundred of thousands of books and documents devastated by the flood.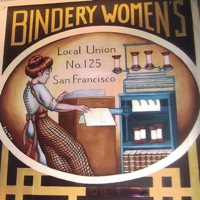 The Woman Bookbinder
March 2016
As part of Women's History Month, the American Bookbinders Museum presents an exhibition featuring books and ephemera from the Museum's collections, curated by Elspeth Olson, librarian and archivist at ABM. The exhibition offers looks at women in the binding trade, women and the rise of the bindery unions, and women in artisanal binding.
Time Honored Techniques: Bookbinding Manuals from 1650-1880
November 16, 2015–April 15, 2016
An exhibition of manuals from the museum's collection, reflecting changes in culture and technology, curated by book restorer, fine binder, binding historian, and toolmaker Tom Conroy, author of Bookbinders' Finishing Tool Makers 1780-1965 (Plough Press, 2002). List of exhibits »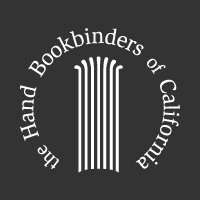 Members Exhibition of the Hand Bookbinders of California
June 23–September 15, 2015
We're extremely excited to host the 43rd Annual Members Exhibition of the Hand Bookbinders of California. We're equally pleased that it coincides with the grand (re-)opening of the American Bookbinders Museum.
Established in 1972, the Hand Bookbinders of California is a close-knit group of hand bookbinders, with shared interests in creating and collecting fine bindings, joined together to promote hand bookbinding and related book arts and to exchange information and ideas.