In our digital age, it's hard to remember (or even believe) that books were once so rare and costly that they were kept chained to the shelves. But even chains cannot protect a centuries-old book from the wear of time–and many hands. When a chained medieval book in Stanford Libraries' collection needed repair it took a group effort to conserve the book and create a model of this unusual binding structure that could stand in its place for use by scholars and researchers: a group at the intersection of scholarship, conservation, and craft. Join us for a virtual panel discussion with Kathleen Smith, Aude Gabory, and Karen Hanmer as they discuss their collaboration across disciplines; see the resulting facsimile, and marvel at the thought, art, and skill that went into creating it.
Lecture Tickets: $10.00
Kathleen Smith, Curator, Germanic Collections & Medieval Studies, Stanford Libraries

Kathleen received her MLIS from the University of Texas at Austin and her PhD in Germanic Languages & Literatures from the University of Illinois at Urbana-Champaign. Before coming to Stanford, she worked in the Research and Development Department of the State and University Library in Göttingen, Germany.
Aude Gabory, Book Conservator, Stanford Libraries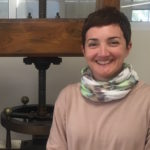 Aude graduated from the Bookbinding program at North Bennet Street School in Boston and trained in conservation at the Boston Athenaeum, the Newberry Library and the Art Institute of Chicago. She was a Conservation specialist at the University of Chicago libraries before joining Stanford in January 2016.
Karen Hanmer, Book Artist and Educator

Karen Hanmer's artist-made books are physical manifestations of personal essays intertwining history, culture and politics. She utilizes both traditional and contemporary book structures, and the work is often playful in content or format. Hanmer exhibits widely, and her work is included in collections ranging from The British Library and the Library of Congress to Stanford University and Graceland. She has served on the editorial board of The Bonefolder, as Exhibitions Chair for the Guild of Book Workers, and as frequent exhibition curator and juror. She offers workshops and private instruction focusing on a solid foundation in traditional binding skills. www.karenhanmer.com