After a 2-year hiatus, ABM welcomes back SF in SF! San Francisco's science fiction reading program has presented a host of established and debut writers in its 20+ year history. The return program features Sam J. Miller and Kimberly Unger reading and in conversation with writer Cliff Winnig.

Sam J. Miller is the Andre Norton Award-winning author of The Art of Starving, Blackfish City, Destroy all Monsters,The Blade Between, and a new short story collection from Tachyon Publications, Boys, Beasts and Men. His short stories have appeared in publications such as Clarkesworld, Asimov's Science Fiction, and Lightspeed, along with over fifteen "year's best" story collections.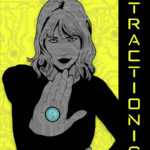 Kimberly Unger's debut novel was Nucleation; her breakout technothriller The Extractionist is forthcoming from Tachyon Publications. Unger made her first videogame back when the 80-column card was the new hot thing, and followed that up with degrees in English/Writing from UC Davis and Illustration from the Art Center College of Design. Nowadays she produces virtual reality narrative-games, lectures on the intersection of art and code for UCSC's master's program, and writes science fiction about how all these app-driven superpowers are going to change the human race.
Doors open at 6:00 – Program begins at 6:30.
$10 donation at the door (no one is turned away for lack of funds). Bookshop West Portal will be on hand with copies of the authors' work. Masks will be required during this event!
We hope to see you here.