Located in San Francisco, American Bookbinders Museum is 
Where the Book Begins.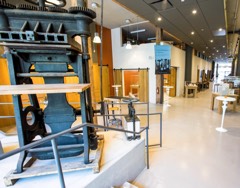 Tour our Museum
Our historic collection of bookbinding equipment can only be seen by guided tour. Tours are conducted daily, Tuesday through Saturday, at 11am and 2pm, and for groups of five or more by appointment.
Current Exhibition
Market Bound
A new exhibit looks at the rise of the commercial book cover, meant to draw the eye, focused on diverse genres, and increasingly signaled the reader's taste and status. Now through November 2.
Rentals
Host Your Special Event With Us
Located in the heart of San Francisco's SoMa/Yerba Buena District, just steps from the Moscone Center, the American Bookbinders Museum is the ideal space for your special event.