Our beautiful, recently renovated museum space is now available for your next event or gathering!
Events
Below are our currently scheduled events. Please check back for regular updates.
If you would like to be added to our events list, or if you would like to inquire about collaborating on a custom tour, or a special or space rental event, please contact us and specify your interest.
Currently
Books and Mud: The Drowned Libraries of Florence
EXTENDED:  Exhibit runs through February 18, 2017
In November, 1966, the banks of the Arno River in Florence rose to record heights, breaking its embankments and flooding the city. Art and books stored in library and museum cellars steeped for days in water, mud, and sewage. In an unprecedented international effort, volunteers converged on the city to rescue these treasures. In celebration of the 50th anniversary of the Arno flood, the American Bookbinders Museum is pleased to host "Books and Mud: the drowned libraries of Florence," an exhibition examining and commemorating the "Mud Angels" and the tools and techniques that were created to reclaim and restore hundred of thousands of books and documents devastated by the flood.
Books and Mud is open to the public Tuesday – Saturday from 10 am to 4pm; admission is free.
Upcoming
50th California International Antiquarian Book Fair
February 10, 11, 12 at the Oakland Marriott City Center, Oakland
The California International Antiquarian Book Fair gives attendees an incredible opportunity to browse and buy books from nearly 200 booksellers from around the world. In addition there are seminars and presentations, and special exhibits, including a group of "book arts" related exhibitors–including The American Bookbinders Museum–displaying binding, letterpress printing, calligraphy, and ephemera.
Tickets for the event are $23 for three days, $13 for two; for students (with ID) tickets are $13 for three days and $10 for two.
We hope to see you there!
Past
The Woman Bookbinder
March 2016
As part of Women's History Month, the American Bookbinders Museum presents an exhibition featuring books and ephemera from the Museum's collections, curated by Elspeth Olson, librarian and archivist at the ABM. The exhibition offers looks at women in the binding trade, women and the rise of the bindery unions, and women in artisanal binding.
Time Honored Techniques: Bookbinding Manuals from 1650-1880
November 16, 2015–April 15, 2016
An exhibition of manuals from the museum's collection, reflecting changes in culture and technology, curated by book restorer, fine binder, binding historian, and toolmaker Tom Conroy, author of Bookbinders' Finishing Tool Makers 1780-1965 (Plough Press, 2002). List of exhibits »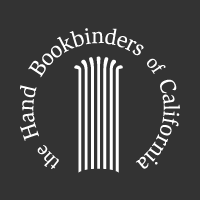 Members Exhibition of the Hand Bookbinders of California
June 23–September 15, 2015
We're extremely excited to host the 43rd Annual Members Exhibition of the Hand Bookbinders of California. We're equally pleased that it coincides with the grand (re-)opening of the American Bookbinders Museum.
Established in 1972, the Hand Bookbinders of California is a close-knit group of hand bookbinders, with shared interests in creating and collecting fine bindings, joined together to promote hand bookbinding and related book arts and to exchange information and ideas.
Tours are currently being offered at 10am, 11am, 1pm, 2pm, and 3pm Tuesday through Saturday and by appointment. Our tours are developed and led by docents and artists who are passionate about connecting our history to today's innovations in technology, helping visitors to understand where we came from and where we are going.