Events
Below are our currently scheduled events. Please check back for regular updates.
If you would like to be added to our events list, or if you would like to inquire about collaborating on a custom tour, or a special or space rental event, please contact us and specify your interest.
Upcoming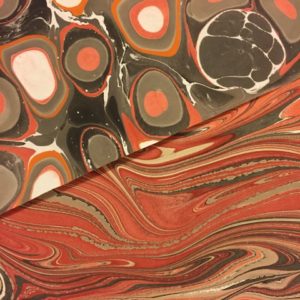 Washi and Paste Paper Trunk Show
Saturday, April 8, 12 – 6 pm
Washi is the Japanese word for the traditional papers made from the long inner fibers of three plants — gampi, mitsumata, and kozo. As Japan changes with the rest of the world, machines produce similar-looking papers which have qualities very different from authentic handmade washi. Washi is loved by bookbinders, conservators, printmakers, architects and interior designers, book artists, printers, graphic designers and calligraphers.
On April 8 from noon until 6pm, come meet Linda Marshall of Washi Arts, and paste paper artist Madeleine Durham at the American Bookbinders Museum.
During this informal drop-in event, Linda Marshall will be on hand to discuss how washi is made, what makes washi different from other papers, how to use washi in your work, technical issues with using Japanese papers for conservation and repair, what qualities different papers have and how to identify them, natural and synthetic dyes used to tone and color the paper, and famous artists using washi in their work.
You'll have an opportunity to see, touch, and feel natural papers made of kozo, gampi, and mitsumata fibers; dyed papers in a range of weights; decorative papers: katazome-shi, chiyogami, Robert Wu and Karen Perinne marbled kozo washi. 
Madeleine Durham will have a wide range of innovative paste papers created using pigmented paste, using a brush technique to create a range of contemporary designs for fine bookbinders, collage artists and crafters. Pigmented pastes allow her to vividly express the colorful and fluid abstraction of the style which defines her work.
This opportunity to see, buy, and/or order washi and paste papers, and to seek recommendation and advice from recognized experts in both these extraordinary fields, is not to be missed!
SF in SF with Pat Murphy, Madeleine Robins, and Jewelle Gomez
Sunday, April 23, 5:30 pm
Join us on Sunday, April 23, for a lively evening of reading and discussion with Pat Murphy and Madeleine Robins, moderated by Bay Area author, editor, and raconteur Terry Bisson.
Pat Murphy writes fiction that has "a hint of the strange," from the Nebula Award-winning The Falling Woman to the World Fantasy Award winner Bones. Her novelette "Rachel in Love" won the Nebula Award, the Theodore Sturgeon Memorial Award, the Locus Award, and the Asimov Readers Award. When not writing fiction she has written about science for the Exploratorium and Klutz Press, as well as a column with physicist Paul Doherty for The Magazine of Fantasy and Science Fiction. She is currently the Activity Guru/Evil Genius of Mystery Science, creating science curricula and activities for elementary school students. She is a co-founder of the James Tiptree Memorial Award.
Madeleine Robins has been, in no particular order, a nanny, a teacher, an actor and stage-combatant, an administrator, a comic book editor, a baker, typist-clerk for Thos. Cook's Houses of Parliament office, a repairer-of-hurt-books, an editorial consultant, and a writer. Her work includes the New York Times notable book The Stone War; Sold for Endless Rue, and three books in her swashbuckling alt-Regency-noir detective series: Point of Honour, Petty Treason, and The Sleeping Partner. She is a founding member of the online publishing collective Book View Cafe, the Operations Manager of the American Bookbinders Museum, and is working on another book.
Writer and activist Jewelle Gomez is the author of eleven books, including the double Lambda-Award winning novel The Gilda Stories. Her fiction, essays, criticism and poetry have appeared in periodicals as varied as The San Francisco Chronicle, The New York Times, The Village Voice; Ms Magazine, ESSENCE Magazine, The Advocate, Callaloo and Black Scholar. She has served on literature panels for the National Endowment for the Arts, the Illinois Arts Council and the California Arts Council, and has been the recipient of a literature fellowship from the National Endowment for the Arts; two California Arts Council fellowships and an Individual Artist Commission from the San Francisco Arts Commission.
For over a decade SF in SF has offered readings, films, and special events in the Bay Area for readers of science fiction, fantasy, and speculative fiction. Hosted by Terry Bisson, past guests have included Neil Gaiman, Cory Doctorow, Karen Joy Fowler, and Nalo Hopkinson. We hope you will join us!
$10 at the door (no one is turned away for lack of funds). As always, Borderlands Books will be on hand with copies of both authors' work.
Doors and cash bar open at 5:30; program begins at 6pm
Past
Books and Mud: The Drowned Libraries of Florence
November 20, 2016 – February 20, 2017
In November, 1966, the banks of the Arno River in Florence rose to record heights, breaking its embankments and flooding the city. Art and books stored in library and museum cellars steeped for days in water, mud, and sewage. In an unprecedented international effort, volunteers converged on the city to rescue these treasures. In celebration of the 50th anniversary of the Arno flood, the American Bookbinders Museum is pleased to host "Books and Mud: the drowned libraries of Florence," an exhibition examining and commemorating the "Mud Angels" and the tools and techniques that were created to reclaim and restore hundred of thousands of books and documents devastated by the flood.
The Woman Bookbinder
March 2016
As part of Women's History Month, the American Bookbinders Museum presents an exhibition featuring books and ephemera from the Museum's collections, curated by Elspeth Olson, librarian and archivist at ABM. The exhibition offers looks at women in the binding trade, women and the rise of the bindery unions, and women in artisanal binding.
Time Honored Techniques: Bookbinding Manuals from 1650-1880
November 16, 2015–April 15, 2016
An exhibition of manuals from the museum's collection, reflecting changes in culture and technology, curated by book restorer, fine binder, binding historian, and toolmaker Tom Conroy, author of Bookbinders' Finishing Tool Makers 1780-1965 (Plough Press, 2002). List of exhibits »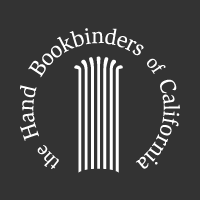 Members Exhibition of the Hand Bookbinders of California
June 23–September 15, 2015
We're extremely excited to host the 43rd Annual Members Exhibition of the Hand Bookbinders of California. We're equally pleased that it coincides with the grand (re-)opening of the American Bookbinders Museum.
Established in 1972, the Hand Bookbinders of California is a close-knit group of hand bookbinders, with shared interests in creating and collecting fine bindings, joined together to promote hand bookbinding and related book arts and to exchange information and ideas.