Donate
Every book tells a story and, as North America's only bookbinding museum, we tell the story of the book. Help keep the story of the book alive by donating today!
Help ABM reach more book lovers, students and book artists. Your financial or in-kind donation helps the museum expand its exhibits and programs. ABM is a 501(c)(3) non-profit organization—your donation should be tax-deductible.
The American Bookbinders Museum is grateful to all supporters. Your generosity makes it possible to share this incredible story with everyone. Donations of any amount are kindly accepted.
The Historical Bookbinding Machine Fund
At the end of this year, multiple pieces in ABM's collection of 18th and early 19th century bookbinding machines will return to a private collector once their long-term loan expires. Learn more about how you can help us acquire new pieces of bookbinding history by clicking the image below!
Financial Support
Help ABM expand its offerings and programs within the community by making a monetary donation. Your financial gift directly supports the preservation of the story of the book for generations to come. Examples of what the American Bookbinders Museum has accomplished as a result of valued financial support:
The creation of a comprehensive audio tour program guiding guests through the museum's permanent collection. This initiative allows the public to safely visit the museum during the COVID-19 pandemic.
The offering of a temporary exhibit entitled, "Celebrating the 19th Amendment: Suffragists in Print". To launch the exhibit, ABM hosted a lively online discussion in partnership with the League of Women Voters. Content is available both in the museum and online.
ABM offers the public an extensive catalog of resources – available completely online. Online content includes information about historical bookbinding equipment, an online catalogue of the museum's special collection, and a bookbinders directory, all helpful resources for bookbinding enthusiasts!
Contact Kristine Connolly, Development Manager, at donations@bookbindersmuseum.org if you have questions about making a financial contribution to the American Bookbinders Museum.
Donate Now
Membership
Join fellow book lovers by becoming an ABM Guild Member today. By joining the ABM Guild at any level, from Book Lover to
Grand Master, you help tell the story of the book. Each member category includes a special "bookish" gift and cash donation. Guild member levels include:
Grand Master – $500
Master – $200
Journeyman – $100
Apprentice – $50
Book Lover – $25
Click the button below to learn more about each member level!
Learn About Membership!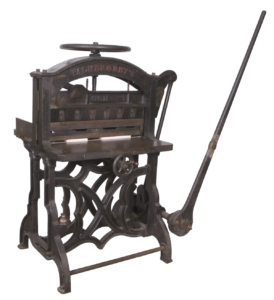 Objects
The collection grows thanks to the generous gifts of the book community. ABM accepts bookbinding equipment, ephemera and books into the special collection. When accepting donations staff considers if it fits ABM's collection plan. The museum considers whether or not we have the resources to care for an item or collection. Please contact collections@bookbindersmuseum.org, or call us at (415) 824-9754 to discuss a potential donation. Note: ABM cannot accept delivery of unsolicited donations.
In-Kind Donations
Amazon Smile
Give to the America Bookbinders Museum every time you buy something on Amazon. To make ABM your preferred charity follow these simple instructions: Sign in to smile.amazon.com on your desktop or mobile phone browser and select or type: American Bookbinders Museum.
For more information about the AmazonSmile program.