Every book has a story. We tell the story of how books are made and why that's important to us today. Help us keep the story alive by donating.
The American Bookbinders Museum is grateful to all our supporters. Their generosity makes it possible to share the story of the book with you. Donations of any amount are kindly accepted.
Cash and in-kind donations help ABM expand its exhibits and programs. Help us reach more book lovers, students, and book artists. We are a 501(c)(3) non-profit organization. Your donation may be tax-deductible.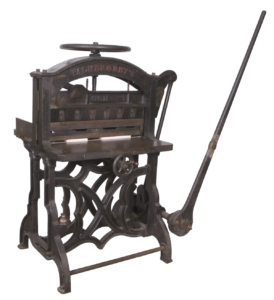 Objects
Our collection grows thanks to the generous gifts of the book community. We accept bookbinding equipment, ephemera and books into our special collection. When accepting donations our staff considers if it fits ABM's collection plan. We consider whether or not we have the resources to care for an item or collection. Please contact collections@bookbindersmuseum.org, or call us at (415) 824-9754 to discuss a potential donation. Note: ABM cannot accept delivery of unsolicited donations.
Money
Make a financial donation. Your gift may be tax-deductible. It will help ABM expand its offerings and programs within our community.
Donate Now
Amazon Smile
Give to the America Bookbinders Museum every time you buy something on Amazon. To make ABM your preferred charity follow these simple instructions:
Sign in to smile.amazon.com on your desktop or mobile phone browser.
Amazon Smile
Select or type: American Bookbinders Museum.
For more information about the AmazonSmile program.