A few weeks ago, I had the good fortune to be able to attend the London International Antiquarian Book Fair. My friend and fellow library student (Jill, for future reference) managed to secure tickets through her workplace. She and I are both rare books people, and I think it is safe to say that we have more-than-vague aspirations of someday having Splendid Collections Of Our Very Own, so this was a prime opportunity to see some lovely books, learn about collecting, and possibly make a purchase.
 The fair is coordinated in part by the Antiquarian Booksellers Association, and is one of the main events of London Rare Book Week. This year, 173 exhibitors from around the world gathered together offering rare books, manuscripts, prints, photographs, maps, and ephemera at prices varying from the surprisingly affordable to the financially ruinous. Workshops such as "Sewing and Endbanding", "Edge Decoration on Miniature Books", and "Bookbinding for Children and Young People" were available throughout the day; first editions abounded, and gorgeous bindings were on display at every turn—leather, vellum, gold-tooled, blind-tooled, stamped, painted, furnished, miniature—it was like walking through a museum where everything is for sale.
 The overall effect can be a bit overwhelming, so Jill and I decided to start the day with a guided tour to get our bearings. The tour we chose was called "Parsimonious bibliophily: affordable books and an introduction to book collecting", and was given by Roger Treglown, the Vice Chairman of the book fair committee. He took us around the main floor to various stalls to show us books that were on sale for reasonable prices; there were plenty available for less than £35, and the most expensive item we were shown was a small, 19th-century book with a lovely vellum binding that was still affordable at under £100. Vellum is not inexpensive, but it needn't bankrupt you either; it often depends on the book itself, and this one was not particularly exciting. It was a third edition (if I remember correctly), and not terribly difficult to find. For the beginning collector with a bit of spare change, especially one who is more interested in the book as an object rather than the text, it would make a good starter purchase. (Pro tip: vellum bindings can be cleaned with milk, preferably of the full-fat variety. Use cotton wool, and be careful not to rub too hard or you'll run the risk of rubbing off any existing decorations.)
Roger also told us a few things to look for when choosing a book, including the condition of the binding (cracked joints or hinges, whether the binding material is rubbed or worn, whether it's been rebacked, etc.), date of the binding (contemporary or rebound), condition of the text block, any existing provenance, the edition, etc. Most of this was familiar information for Jill and myself, but it was interesting to hear it from a seller's perspective, as neither of us is used to thinking in terms of monetary value.
 After the tour, we sat down with a cup of tea to psych ourselves up for flying solo (i.e. sans guide). We are both competent library students who know our way around a rare book, but it's hard not to be intimidated when you're strolling past a stall and you realize that the book displayed behind glass just at eye level is a copy of The Wonderful Wizard of Oz signed by L. Frank Baum and is on offer for a cool £150,000 ($254,000), and an impeccably dressed woman is chatting away to the dealer in French in an extremely knowledgeable fashion. But Roger had assured us that there were books here we could afford, and that beginning collectors were welcome, so armed with these words of encouragement we set ourselves a budget and headed for the nearest stall.
 The first exhibitioner had two glass cases of things that were obviously out of our price range, but there were also a few open shelves, and almost immediately I found a book that was an ideal purchase. It was a Dickens book in a lovely dark green publisher's binding from 1880, in beautiful condition, and within my budget at £50. I loved it, but didn't want to buy the first thing I saw, so I made a mental note of where it lived and we moved on. (I briefly considered hiding it, but decided that wasn't really in the spirit of the day.) After going through a few stalls, we began to develop an eye for what we might be able to afford; there were too many exhibitioners to visit them all, so we made some guidelines. Stalls that had only glass cases or books that looked as if they'd come straight out of a medieval library we passed by, as it was unlikely that anything would be within budget. Stalls with open shelves and lots of different colored bindings or children's books were more likely, so we visited most of those. (My resolve towards fiscal responsibility went out the window for a minute when I found a first edition of The House at Pooh Corner, but as I really do need to pay rent for at least the next two months, I had to let it go.)
Ultimately, after a few hours of browsing, I was still hung up on the Dickens book, so I went back for it and am pleased to report that I am now its proud owner: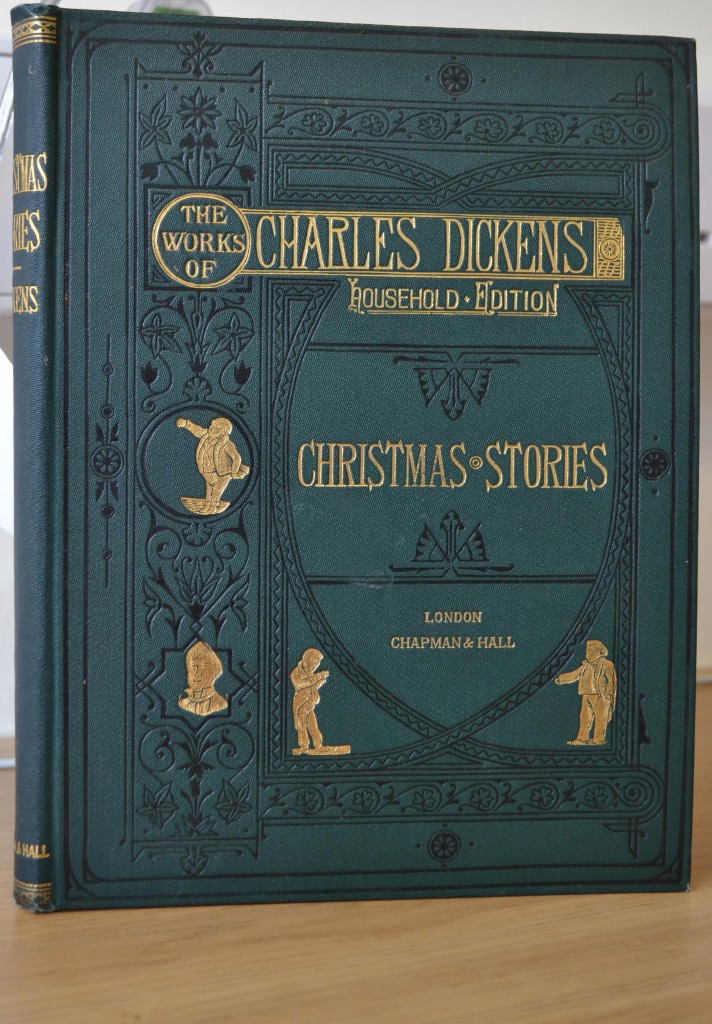 In short, our day at the fair was wonderful, educational, and encouraging. Not only were we able to see some amazing items on display, we also learned that one needn't be a millionaire to have a nice collection of books; a little pre-knowledge will go a long way towards helping you to make sensible and satisfying purchases. If you are interested in starting a book collection of your own, I recommend reading John Carter's ABC for Book Collectors, and checking out the ABA website; it includes a "terms of the trade" glossary, and a link to the website of the International League of Antiquarian Booksellers. And don't forget to enjoy yourself – half the fun of book collecting is searching for the perfect find. Happy hunting!
By Molly Kernan, Content Volunteer