For centuries people have employed "presses" of various types to protect and preserve precious possessions. Victorian women pressed flowers given them by admirers. Linen presses and clothes presses, generally now synonymous with cupboards, originally were devices to flatten fine fabrics via a platen and large screw, not unlike printing presses. Today collectors often turn to specialized pressing services to improve the condition of their vintage comic books!
Recently a fan called our attention to yet another pressing problem: the preservation of decks of playing cards from the 18th and 19th centuries. Before the advent of plasticized or laminated playing cards, these popular playthings were made of thin cardboard, highly vulnerable to damage from tearing, curling, and warping. In addition, before the age of mass production, playing cards were no trivial expense. Hence the role of the playing card press — a small, fairly simple device designed to hold one's playing card deck flat and protected.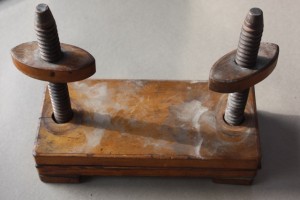 Laura Bullock of Hyde Park, New York, shared with us photos of an antique playing card press she acquired at a local shop, Hyde Park Consignments. The little wooden press measures 8 ¾ inches by 3 7/8 inches wide, big enough for two decks, with two dowel screws projecting from the top. The apparatus had been acquired by the shop in company along with two decks of vintage playing cards.
Bullock's simple two-deck press is made of wood and features two dowels to apply even pressure on the cards. Other vintage presses might be made of metal and highly ornamented. Some, designed for a single deck, employed one central screw.
A card deck that came with the press exhibits the insignia of S.D. Modiano, an Italian printer which began by making cigarette papers and moved on to the lithographic printing of playing cards in 1884. A tax stamp also appears on the cover card.
Modern, acrylic or steel versions of the playing card press are still manufactured — used largely by magicians! These generally have at least six screws or operate on a clamp system.
Today vintage card presses are best used as attractive conversation pieces. Some may be repurposed for use as, say, flower presses. In the 1930s a creative inventor petitioned for a patent for a combined nutcracker and playing card press. No word on whether he cracked the market.
— Eleanor Boba
ABM Guest Blogger Eleanor Boba is a public historian who blogs about historic places off the beaten path and other curious matters. She lives in Seattle.