You have probably walked into a library at some point and seen rows of books in solid-colored hardbound covers; some may have muted-color pictures on the cover, but more often than not they have plain covers. Title and author appear on the spine and cover in unornamented white, yellow, or light-blue lettering. These books may be familiar to you as run-of-the-mill library books, but what you might not know is that these books are specially bound in what is called "library binding" — a formal bookbinding practice with standards and guidelines that has been around since 1923 (1). That's right, you can get specially certified as a Library Binder.
What is Library Binding?
Library binding is a preservation technique for library books, which often face the tough reality of rough handling, many borrowers over their circulating lifetime, and the need to stick around for a long while.  Library binding is a protective hardbound binding that is meant to protect the book, or bound set of serials, for durability and long-term preservation. The longer the shelf-life of library books, the more the library can save on the cost of re-buying books over time. Additionally, books are kept in better condition, providing a nicer experience for the reader.
In most cases, the covers on library bindings are made of buckram (a sturdy cotton cloth) and coated with acrylic which renders it resistant to insects, water, and ultraviolet light (2). The spine may be reinforced with linen or muslin, and rounded to prevent the case from buckling. The result is a remarkably sturdy book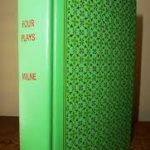 Books can be manufactured and purchased directly from a library binder, or libraries can choose to send their books to the library bindery sometime after purchase. This technique is used on books that are important for their content and never used on books that are important as artifacts. Rare books in archival collections undergo treatment from professional conservators and archivists for long-term preservation, or, if fragile, can have individual book boxes made to contain them. Such books are not bound in library bindings.
History of the Practice & Standards
Standards for library bindings have been around for nearly a century, with practices developing & improving over time. Previously part of the Book Manufacturers Institute (BMI), the Library Binding Institute (LBI) broke off in 1935 to found its own trade association and promote the durability of library bound books as opposed to publishers' bindings, which are often produced at the lowest cost to the publisher, sacrificing quality of the binding. Some 80 years later, the two organizations merged again in 2014, with the Library Binding Institute, now the Library Binding Council, falling under the aegis of the Book Manufacturer's Institute (3), with a shared mission for supporting excellence in printing and binding.
Over the years, librarians and binders came to realize that some of the practices for ensuring a book's long life & durability were a little too strong, and could compromise the openability of a book for ease of reading and photocopying.
In her Guidelines for Library Binding conservation leaflet, Sherelyn Ogden notes that:
"In 1984 Jan Merrill-Oldham identified the following desirable characteristics of a library binding: 1) The binding should be as conservative as possible, altering the text block minimally; 2) the binding should be as non-damaging to the text block as possible and should not shorten its useful life; 3) the bound volume should open easily to a 180° position to facilitate non-damaging photocopying; and 4) the bound volume should stay open when resting face up on a flat surface so the reader has both hands free and can take notes easily."
Guidelines were improved and the current Standard, ANSI /NISO/ LBI, Z39.78-2000, ensures that the binding itself is not damaging to the book; that the text block is kept intact in case any text or images run to the edges of the page; and that the book can lie open at a flat 180 degrees.
While the Standard is written primarily for book binders with heavy use of industry terminology, a concern arose over the need for librarians and library staff to easily understand their options in binding. With that, the Guide to the ANSI/NISO/LBI Library Binding Standard Z39.78-2000 was written by Jan Merrill-Oldham and Paul Parisi.
The Northeast Document Conservation Center outlines (4) some of the basic questions to consider when contracting with a library binder. These include: whether the book should be resewn as well or just recased, whether the binder can trim the pages or not, and whether repairs to the paper are desired. And of course the Guide to the Standard provides much more in-depth detail on binding options, materials, decision-making, and post-binding inspection.
---
Further Reading & Resources
The Library Binding Council (LBC), part of the Book Manufacturers' Institute
The LBC is the predominant certifying organization for library binders.  Library binders apply for certification by having their work tested against accepted professional standards for library binding and libraries can request to see their certificate when entering contractual business partnerships with the bindery.
ANSI /NISO/ LBI Library Binding Standard, Z39.78-2000
Published jointly by the National Information Standards Organization and the Library Binding Institute, this is the official standard used by library binders used to ensure the highest quality and most durable binding practices.
Guide to the ANSI/NISO/LBI Library Binding Standard Z39.78-2000 by Jan Merrill-Oldham and Paul Parasi
This guide, intended for use by library staff, translates the technical terminology used in the Standard into a basic language understood by non-binders. It was created with the goal of guiding library staff through the process of deciding specifically how they would like their collections bound.
Photo Examples of Library Binding from the International Online Booksellers Association
Footnotes
(1) http://bindery.berkeley.edu/campus-libraries/library-binding-vs-publishers-binding
(2) https://en.wikipedia.org/wiki/Library_binding
(3) http://whattheythink.com/news/66810-bmi-hardcover-binders-international-merge/
(4) https://www.nedcc.org/preservation101/session-4/4library-binding
---
Blogger Sherry Lochhaas is a librarian by trade and enjoys exploring the odd & fantastical side of life. She lives in Oakland, California.