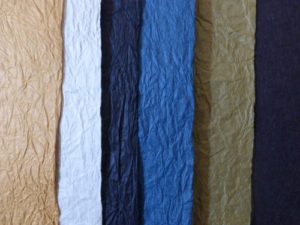 Wa = Japanese + Shi = Paper :: Washi = Japanese Paper
Washi is the Japanese word for the traditional papers made from the long inner fibers of three plants — gampi, mitsumata, and kozo. As Japan changes with the rest of the world, machines produce similar-looking papers which have qualities very different from authentic handmade washi. Washi is loved by bookbinders, conservators, printmakers, architects and interior designers, book artists, printers, graphic designers and calligraphers.
On October 14 from 2pm – 7pm, come meet Linda Marshall of Washi Arts at the Bookbinders Museum. During this informal drop-in event, learn about how washi is made, what makes washi different from other papers, how to use washi in your work, technical issues with using Japanese papers for conservation and repair, what qualities different papers have and how to identify them, natural and synthetic dyes used to tone and color the paper, and famous artists using washi in their work.
You'll have an opportunity to see, touch, and feel natural papers made of kozo, gampi, and mitsumata fibers; dyed papers in a range of weights; decorative papers: katazome-shi, chiyogami, Robert Wu and Karen Perinne marbled kozo washi, Madeleine Durham paste paper on kozo washi. Find out about konnyaku powder used to give washi added strength and a cloth-like consistency; kakishibu to dye and waterproof washi; bamboo tools for folding, creasing, and scoring; and Japanese iron awls for stab binding.
This opportunity to see, buy, and/or order washi, and to seek recommendation and advice from a recognized washi expert, is not to be missed!
Washi Arts is a retail partner of the Japanese Paper Palce, which houses the world's largest selection of Japanese papers under one roof. Linda Marshall established Washi Arts to provide exceptional washi to book artists and bookbinders; the goal of Washi Arts is to inspire artists and artisans to use this precious material to enhance their work and spark creativity.