Having a hard time finding a gift for the book lover in your life? Why not do some of your holiday shopping in our bookstore? After all, we're offering 10% off all bookstore purchases on the two remaining pre-Christmas Saturdays! Here are some recommendations from ABM staff members.
---
Madeleine says: My daughter is planning on traveling this spring, and asked for a nice journal for Christmas. Clearly she came to the right parent: In the ABM bookstore we have a number of lined blank books with facsimile covers of early, famous bindings, and others that mimic the style of bindings from a variety of times and places. But which to choose? I looked through them all — 19th century and 15th century, Middle Eastern, French and British. Finally I went with my gut.
I am partial to the Mid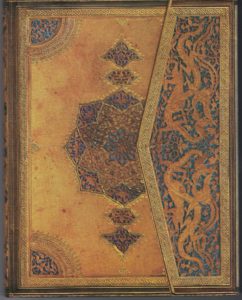 dle Eastern designs, and settled, after an extensive and deeply conflicted survey of the ABM's bookstore stock, on Paperblanks' Safavid Ultra, a nice-sized journal with a wrap-around magnetic cover and really gorgeous detail. With what I have learned about embossing and gilding books since coming to the ABM, I am astonished by the skill, patience, and steady hands it would have taken to create such an object. Add in the lacquer-work which gives the cover its jewel-like color, and it's rather heart-stopping.
When you're sending a beloved child off to have adventures, it's nice to give them a talisman of sorts. May she rejoice in its beauty, and fill it full.
Lest you think that this journal owes all its charm to modern mechanical techniques, here's a Savafid-era book cover, which would have been created entirely by hand. The sheer volume of detail is amazing.
---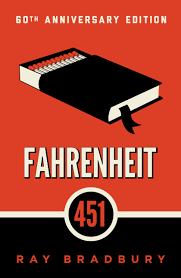 Madeleine says: "It was a pleasure to burn."
Not only is that a brilliant opening line, but to anyone who loves books, it is a genuinely chilling one. The bookstore at the American Bookbinders Museum has a lot of fascinating non-fiction works about the technique and history of binding and related trades, and about books themselves. Fahrenheit 451, a work of fiction, is one that talks about what books are for: mementos of people gone before, vehicles for carrying wisdom from one time to the next, from one place to another. In Ray Bradbury's bleak future, books are burned when they are discovered, lest the information, the stories, the heart they contain, awaken a populace with a short attention span and a willingness to be controlled. It's a beautifully written book, curiously timeless and yet timely. If you haven't read it, or haven't read it in years, may I recommend Fahrenheit 451?
---
Elspeth says: I loved my history of the book classes in grad school, and still can't get enough of the topic. I'm currently reading one of the books from our store called The Book: A Global History. While I loved history of the book classes, they were almost invariably Western-focused, and this book is truly global. It's a dense and fascinating read that explains everything from the development of written language to the impact of the digital book. A fantastic choice for the cultural history nerd in your circle.
---
Stephanie says: One of our fabulous volunteers, Velia Villa, made Johannes Gutenberg magnets! Makes a great stocking stuffer.