Two major events in the Bay Area this month for book lovers and book artists.

Codex 2017 is part of the 6th Bienniel International Book Fair and Symposium at the Craneway Pavilion, 1414 Harbor Way South, in Richmond. The Book Fair is open to the public, and runs Sunday, February 5 through Wednesday, February 8. Multi-day tickets are $30; Single-day tickets are $10; Student tickets (with ID) are $5. The Codex Book Fair brings the "Best of the Best book artists and fine press printers from around the world to share their work, explore new and old concepts, and to start an on-going conversation about the fate and future of the book as an essential art form."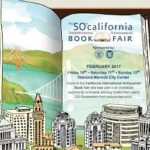 The 50th California International Antiquarian Book Fair will be at the Oakland Marriott City Center, 1001 Broadway, Oakland, from Friday, February 10 through Sunday, February 12. The Fair allows attendees an incredible opportunity to browse and buy books from nearly 200 booksellers from around the world.
In addition to booksellers, the Antiquarian Book Fair features special exhibits, seminars, and presentations, all of which are free to the public with a paid admission. Look for a special group of "book arts" related exhibitors–including The American Bookbinders Museum, displaying binding, letterpress printing, calligraphy, and ephemera. Tickets are $23 for a three-day pass and $13 for a Saturday-Sunday pass; with Student ID a three-day pass is $20, and Saturday-Sunday is $10.