While the museum itself is of course up and running, the library and archives here at the museum are still in process.
I find myself confronted with a particular question often these days: In general, what is the difference between libraries and archives? The simple distinction is that a library contains bound volumes and periodicals, that is, books, magazines, and catalogues. An archive contains everything else. In regards to the ABM, we have photographs, blueprints, patents, bookbinder's tickets, union pins, brass dies, and much, much more. It's really quite a treasure trove.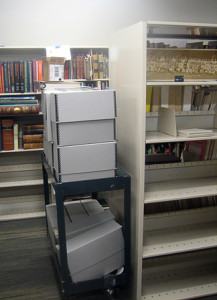 I started working at the ABM as librarian and archivist a month ago; on my first day I found myself looking at four rows of shelving, about 15% of which had materials unpacked on them. The rest of the shelves – and the spaces between the shelves – were piled with empty and partially-empty boxes of books, photographs, artifacts, and archival documents.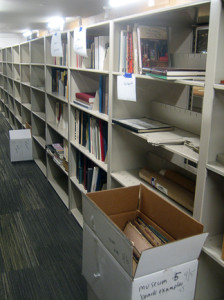 The first thing I did, which helped me feel a bit more in control of the space, was break down all the empty boxes. In large-scale organizational endeavors, things look worse before they look better. I keep telling myself this in the hopes that I will also convince myself!
One of the major hurdles to overcome before making our collection available to researchers is cataloging. The bulk of the ABM's collection is as yet uncataloged; about 25-30% of the books are cataloged on Koha, but that's about it. So that's pretty much at the top of my to-do list.
I have started creating a simple classification structure for the archival materials; as that progresses, finding aids for varied collections will be entered into the catalog, as well as the OAC (the Online Archive of California.)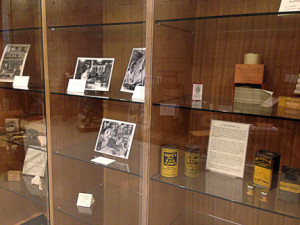 A handful of interesting photographs, images, and so forth are currently on display downstairs in our main gallery space. Each item illustrates, in fact and fiction, the labor of book and paper production from 1701 through the 1970s. Having these on display nicely illustrates a continuity within the bookbinding trade, since museum-goers can see machines and techniques in use in different eras.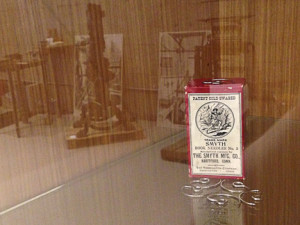 Of course, if we are to provide library and archives materials for researcher use, we should have a space in which they may research! We are in the process of putting together a small reading room downstairs. Don't worry: there will be furniture soon!
Bit by bit, it's all coming together.
I am thrilled to be a part of the ABM team. Every day, I'm getting to know the collections a bit better. I'm working to get our materials cataloged and ready for research use.
–Elspeth
PS: In the meantime, keep your eyes peeled for an audience-participation activity coming up.  The ABM will be taking part in a fun "group project" starting February 1: the New York Academy of Medicine Library will host a week-long coloring fest on social media, using the hashtag #ColorOurCollections. On Monday, February 1st, the ABM will post a few coloring pages based on actual bindings in our library! We hope you'll do some coloring and share your artwork with us — more details on the 1st…