Earlier this year, the American Bookbinders Museum received the generous donation of the Kathleen V. Roberts Collection of Decorated Publishers' Bindings, comprising more than 400 volumes dating between 1830 and 1950. As of this blog post, about two thirds of the collection has been cataloged.
The collection includes many beautiful and striking items, but one of the more
unusual is Baby's Kingdom, designed and illustrated by Annie Cox, and published in 1885. This volume is unusual because it is a very early example of an item we all know well today: a baby book.
The Louise M. Darling Biomedical Library at UCLA may be one of the few places in the Western world making a point of collecting baby books. As of 2010, seven years into its life, the Baby Book Collection at that library had 1,100 books and was still growing. The collection's caretakers note that these books are an extraordinary resource for researchers in medicine, anthropology, sociology, and history.
Baby books include a child's vital information at various points in its early life, such as weight, height, number of teeth, and hair growth. They mark when a child began crawling, walking, and speaking, and frequently include milestone medical events – either the run of childhood diseases or the vaccines intended to prevent them. Baby books also provide information on baby gifts received at various points and frequently include advertising directed at the parents for everything from formula and baby furniture to investments to help secure the child's financial future. There are photographs and sometimes even bits of ephemera – a ribbon, or a lock of baby hair.
Baby books also mark a turning point in the history of Western culture. Instead high infant and childhood mortality rates forcing parents to save up to have a funeral picture taken of a child, they could indulge the hope of survival in these pages by documenting each and every milestone.
Baby's Kingdom is a very early example of a baby book. The earliest item in UCLA's baby book collection is from 1882, and ours is from 1885, filled out for a child named Henry Franklin Miller, born in November of 1887 in Melrose, Massachusetts. He was a big baby – 12 lbs. at birth – and started crawling at eight months. The book includes the usual details of early life and early gifts, interspersed with sweet illustrations, songs, and rhymes of a late Victorian style that borders on the saccharine.
Using the information about Henry Franklin Miller in the baby book, it was easy to trace his life through the records available on ancestry.com. The first census of his life, the one in 1890, has unfortunately mostly been lost, due to a fire in the early 20th century. In 1900, he lived in Wakefield, Massachusetts, with his parents, aunt Alice, and sister Barbara. They also had a housekeeper and a "waiter" in residence. His father, Edwin Miller, was a piano manufacturer. In 1910, still in Wakefield, the family had added a second daughter, Edith, and a nurse. By this time, Henry was in college, and Edwin was the proprietor of the piano factory.
On December 2, 1911, Henry Franklin Miller married Edith Wood Proctor, in what appears to have been something of a society wedding, at least within the musical instrument industry. References to their wedding show up in a music industry newsletter of the region. Henry is described as a mechanical engineer. He was 23 and his wife was 22.
Henry was unlucky in his age range, for he was of age to be required to register for the draft in both world wars. In 1917, his draft card describes him as tall and slender with blue eyes and light hair. By this time he was a factory superintendent at the piano company, and he and Edith had two children.
In the 1920 census, Henry is surprisingly still listed as living with his parents, though also with his own daughter, Dorothy. There is no sign of his wife, Edith. A search for her in the records shows her living with her mother and two sons in Maine. In the next records, she is listed as divorced.
Henry does not appear in the 1930 census, though he does show up in marriage records for New Hampshire in 1933. At age 45, he married Flora Fern Crosby (46), and in the 1940 census, they are living alone in Peterborough, New Hampshire, and Henry is a salesman in the machinery industry. The significant changes in occupation and location, as well as the apparent lack of presence in the 1930 census, suggests the Depression hit Henry hard. Maybe the piano company shut down, or maybe he suffered significant personal losses and had to sell out. It's hard to say without further detailed sleuthing.
Henry Franklin Miller died in 1956. He's buried in Peterborough, New Hampshire, along with his second wife.
Most of Baby's Kingdom is filled out in the same handwriting, but on the page intended for a Mother Goose-style rhyme, a different hand has written:
October 23rd 1939

Mother Miller gave this grand little book to me. Henry Jayne and Flora had dinner with Mother at Barbara's. I certainly love this little book.
Perhaps that's a hint of Henry's youngest sister, Edith. It's nice to know the book stayed in the family and was viewed with pleasure for so long.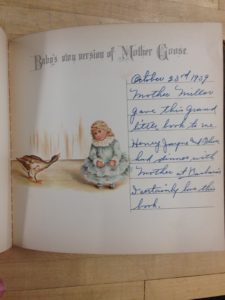 ---
References:
Day, Nicholas. "The First Baby Blogs, Over 100 Years Ago," April 17, 2013. 
Kellogg, Carolyn. "The hidden history of baby books," June 11, 2010.
Lin, Judy. "Baby books a mother lode for research," June 3, 2010. 
Braun, Bob. "Rutgers University professor writes books on how infants shape culture, economics," April 1, 2010. 
Proctor, G. T. (Joe). "Edith Wood Proctor."