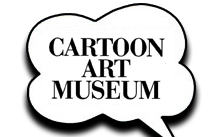 August 18, 2016 at 5:30 – 8pm
Join the Cartoon Art Museum at the American Bookbinders Museum, 355 Clementina Street in San Francisco, on August 18 from 5:30-8pm and 20th from 11am to 3pm to view artwork on display from the 2016 Cartooning Boot Camp in the tradition of an Open Studio!
The Cartooning Boot Camp is dedicated to taking young students ages 10-16 deeper into the process of creation in the cartooning arts. Students study 10 hours in workshop and studio time to for a mastery of basic concepts. The Open Studio will feature artwork on display from these young dedicated students making their first serious foray into improving their skills in the cartooning arts.
Refreshments will be available at both events, which are free and open to the public.
This year's Cartoon Art Museum Cartooning Boot Camp was held on site at the American Bookbinders Museum for four select weeks. Tween and teen students attended weeklong workshops on Character Design, Storytelling, Book Making, and Game Creation dedicated to revealing the creation process from start to a finished project from each student.