Experimentation, Exuberance, Civil War Restraint
Ribbon-Embossed Cloth: An Early Use of Book Cloth – 1830s-1840s
The use of cloth to cover books began in England in the early 1820s. These books were covered in a smooth dark or pinkish cloth, often with a paper spine label for the title.  They were utilitarian but not visually appealing. The rise of an urban middle class brought new buyers into the market who were accustomed to the leather and gilt books of their past and demanded a "prettier" book.
During the 1830s and '40s, publishers experimented with pre-printed, patterned, and striped cloth to dress up their books. All of these posed problems, particularly because the "busy-ness" of the cloth obstructed the gilt cover and spine decoration.
One short-lived  experiment was with ribbon-embossed cloth. In use for less than a decade, this cloth was literally ribbon produced for the dressmaking and milliner's trades.  It was made by running cloth through steam-powered embossing rollers, which produced intricate raised geometric, floral, and abstract patterns. The term "embossing" refers to the process of creating a raised pattern against a flat background.
The Gift Book: A Middle-Class Phenomenon – 1840s-1850s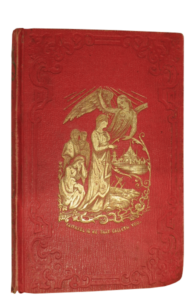 Gift books had highly ornate gold decoration and were given to family, friends, and lovers, almost always female, to celebrate special occasions. A decidedly middle-class phenomenon, they reflected mid-century American social changes brought on by the Industrial Revolution: the population shift from farmlands to cities, the rising rate of literacy among American women, and the growth of a populace with more money and leisure time.
Literary annuals, yearly compilations of poetry, fiction, essays and engraved illustrations, were dependable repeat sales for publishers.  Annuals were extremely expensive to produce and purchase. At a time when a week's wage averaged $3.50, a gift book often cost between $2.50 and $5.00—some sold for as much as $20.00! These were considered luxury items and often were displayed on a parlor table as a symbol of wealth and taste.
By the mid 1850's, close to 1,000 gift books were published in America each year. A few years later, due to the Civil War and changing literary tastes, the gift book era was over.
The three gift books seen here represent smaller-sized gift books—most were issued in a larger, standard book size.
Louisa May Alcott and Civil War Restraint – 1860s
During the decade of the American Civil War, publishers made very different choices about their binding styles. Gone were the opulence and bright colors of the 1850s. Cloth was now dark and somber–rust, green, blue, and brown. The use of metal was restricted by the Army, so gilt titles and cover designs became smaller and more restrained.
The astute marketing and publishing choices made for the iconic bindings of Louisa May Alcott's Little Women series by the Roberts Brothers of Boston, MA illustrate how their design choices, over a period of 14 years, evolved to reflect each decade's popular styles, yet kept the same "feel" of the original book.
The first four books in this series are shown in uniform (identical) bindings – though in different cloth colors. They are bound in rust or dark green cloth and have gilt titles on the cover and spine enclosed within a small gilt decorated oval.
In the 1870s, Roberts Brothers issued more of Alcott's work but updated their spine decoration to reflect the popular Eastlake style of design. This uniform series is bound in the same green color but modernizes the look. Two years later, the publisher chose a bright blue cloth and again updated the spine decoration with a Gold Band Title and a pictorial scrap basket, but kept the same typeface.