A special thank you to Mr. Iraj Navidi for providing the content of this post.
A Summary of the History of Iranian Traditional Hand Bookbinding
Iranians learned to make paper from the Chinese, and started making paper in the city of Samarkand. Examples of Iranian paper include Samarkand, Khorasan, Tabriz and other types of paper. The need for bookbinding emerged over time to preserve and protect poems, paintings and important writings; passing information on to future generations.
Book covers were initially of wood, but later included using leather and cardboard as protective covers.
The evolution of Iranian bookbinding spans many centuries but changed profoundly in the the 15th, 16th and 17th centuries when Shah Esmaeil united the bookbinding schools of Harat and Tabriz at his royal court. His son Shah Tahmaseb started bookbinding workshops in Tabriz. Iranian bookbinding reached Europe through Turkey in the form of poetry from Iranian writers.
Iranian book covers by category
Wooden book covers –  thin wood with a lacquer coating
Cardboard book covers – with leather covering
Fabric book covers – leather spine and corners
Golden book covers – fabric with gold appearance
Velvet book covers – velvet fabric
Paper book cover – cardboard cover with fabric spine for rigidity
Oil and lacquer book covers
Characteristics of Iranian Book Covers
A decoration in the central section is in the form of a rhombus with round corners, similar to an ellipse, is technically known as "Toranj," but also known as Shamseh. The middle and the corners are filled with small flowers and decorative leaves, artistic figures or intertwined curved lines that are gilded or covered with gold ink. This design treatment was the origin of decorations that are seen in Iranian rugs.
The natural dyes, adhesives and oils used in Iranian Bookbinding come from three sources: plants, inorganic materials and animal products. The process to make them was very similar to that of making dyes used in Iranian carpets. Consequently, due to the high quality of these materials, these still vibrant bindings can be viewed in many museums today.
Method of Making a Book Cover by Stroke
A piece of metal, or plate, is prepared using brass or copper. An artist draws or transposes a design onto the metal  with a brush and ink. An embosser or engraver etches the design into the brass or copper plate with a hammer and chisel. The plate is heated and pressed onto leather (generally goat), to impress the design onto the leather—embossing can also be done with pressure rather than heat. A painter then decorates the embossed design with gold ink, gold leaf or with natural dyes. The cover is finished with lacquer or a special oil (Kaman Oil—a traditional Persian resin or oil varnish), making the cover resistant to humidity and other environmental factors.
Preparing the leather cover:

The stages of making a book cover by stroke:
Painting and gilding the cover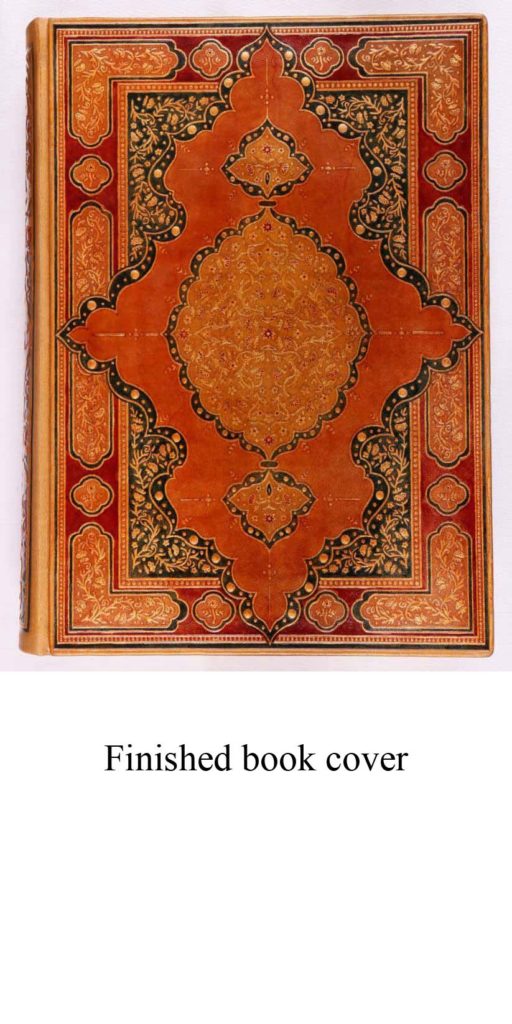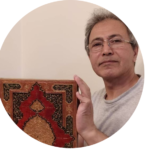 About the Author: Iraj Navidi is an Iranian bookbinder, book restorer, leather handicrafter, box maker, traditional color producer, designer, paper maker and marbler, living in Tehran.