Victorian Opulence
Flowers from Sunlight and Shade – Victorian Features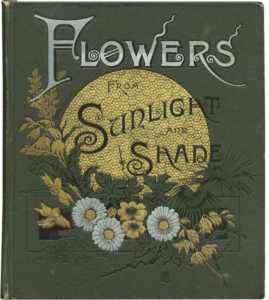 This 1885 cover is representative of many features of Victorian design: the dark green cloth (the predominant cloth color of the 1870s-1880s), the Asian-inspired diagonal design of the flower spray, and the black stamping outlining the flowers and sun.
The exaggerated and flamboyant lettering and typography used in the title are also highly Victorian. In the word "Flowers," note that all the silver letters except for the "F" appear shaded across the top or lower half, depending on the angle of light, thus imitating the effect of sunlight and shade. This effect is repeated in the gilt honeycomb stamping of the sun. Here, the design and title are working in harmony.
Silver stamping – There is a reason why book covers have so much gold—silver was a notoriously difficult metal to use due to its tendency to tarnish. The use of an alloy of aluminum and palladium to replace silver was perfected in the 1880s.
Ice Maiden – An Iconic 1870s-1880s Design
The binding for this Hans Christian Andersen fairy tale is an excellent example of the overcrowding and melding of several decorative styles, a key feature of this time period:
Japonisme – The use of a wrap-around binding with a strong diagonal focus to the front and rear covers, with motifs of bamboo trees, Japanese fans, mountain peaks, clouds, and flying birds.
Eastlake design – The use of overall black stamping and the fine line leaves and branches seen on the bottom of the front cover.
Pictorial onlay – A color-printed illustration pasted to the cover. In this case, the image depicts happy Victorian children at play. Note the diagonal placement.
Gold Band Title – The title is stamped in black against a gilt background, on both the front cover and spine.
Gold Band Titles
This shelf is representative of the books found on an 1880s Victorian parlor mantel, when social etiquette and proper form were all-important. The parlor was opened only when a visitor came "calling." Sets of Dickens, Irving, classic poets and philosophers on display established that this was an educated family of high social standing. These sets usually remained unopened and unread.
Publishers, eager to "hook" the book buyer, issued series of classics stamped in gilt and black with wide bands of gilt for the spine title (which were easy to read from across the room). The bindings were often indistinguishable from other publishers' designs. The idea was, if the buyer purchased your Byron, they would also purchase the other volumes in your series.
Eastlake design, with its emphasis on thin black lines ending in a fleuron or delicate leaf, and geometric forms of wheels or bands of repeating patterns, was a primary decorative style of Gold Band Titles.  Based on the ideas of architect and designer Charles Locke Eastlake (1836-1906), his Hints on Household Taste influenced all aspects of design in the 1870s-1880s.