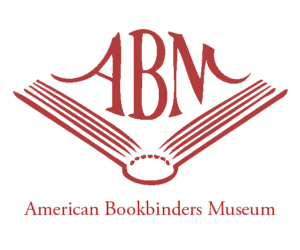 May 7, 2022 
FOR IMMEDIATE RELEASE
IMLS Press Contact
Erica Jaros
EJaros@imls.gov
American Bookbinders Museum
Anita Engles 415-824-9754
anita.engles@bookbindersmuseum.org 
The American Bookbinders Museum Joins Museums for All, a Program for Low-income Families
San Francisco—Today the American Bookbinders Museum announced it has joined Museums for All. This signature access program of the Institute of Museum and Library Services (IMLS), administered by the Association of Children's Museums (ACM),  encourages people of all backgrounds to visit museums regularly and build lifelong museum-going habits. A family of up to four people can visit the American Bookbinders Museum at no charge by presenting a SNAP Electronic Benefits Transfer (EBT) card. Similar free and reduced admission is available to eligible members of the public at more than 850 museums across the country. Museums for All is part of the American Bookbinders Museum's broad commitment to seek, include, and welcome all audiences.
Museums for All expands access to museums, providing low-income families entry to museums. A wide-variety of institutions participate in this initiative, including art museums, children's museums, science centers, botanical gardens, zoos, history museums, and more. Participating museums are located nationwide, representing all 50 states, the District of Columbia, and U.S. Virgin Islands. 
About the American Bookbinders Museum (ABM)
The American Bookbinders Museum is the only museum of its kind in North America, sharing the history and tools of bookbinding from the colonial era to the early 20th-century. We tell the story of the book, presenting the art of western bookbinding as a hand process through early mechanization, promoting a deeper understanding of the impact of book production on the American experience. We maintain a special archive of bookbinding books, periodicals and ephemera that is unique and free to use. The American Bookbinders Museum is a registered 501(c)3 non-profit organization. To learn more visit us at https://bookbindersmuseum.org/,and follow us on Facebook, Twitter, Instagram and TikTok.
About the Institute of Museum and Library Services (IMLS) 
The Institute of Museum and Library Services is the primary source of federal support for the nation's 123,000 libraries and 35,000 museums. Our mission is to inspire libraries and museums to advance innovation, lifelong learning, and cultural and civic engagement. Our grant making, policy development, and research help libraries and museums deliver valuable services that make it possible for communities and individuals to thrive. To learn more, visit www.imls.gov and follow us on Facebook and Twitter. 
About Association of Children's Museums (ACM) 
The Association of Children's Museums (ACM) champions children's museums worldwide. With more than 460 members in 50 states and 16 countries, ACM leverages the collective knowledge of children's museums through convening, sharing, and dissemination. Learn more at www.childrensmuseums.org.