The 38th Boston International Antiquarian Book Fair
Recently, former librarian and friend of the museum, Dana Gee, visited the Boston Antiquarian Book Fair.  In this guest post she describes some highlights of her visit. If you're interested in visiting an Antiquarian Book Fair after reading this, consider attending the California International Antiquarian Book Fair in Oakland February 6-8. The Museum will be there showing some treasures from our collection; stop by and say hi!
The 38th Boston International Antiquarian Book Fair was held November 14-16 at the Hynes Convention Center in Boston's Back Bay. 134 rare book and ephemera dealers from around the world exhibited, panel discussions convened on Louisa May Alcott and Benjamin Franklin's Boston; veteran and newly minted collectors browsed the stalls searching for treasures. I accompanied Founder Tim James and visited the Fair. Here is a quick look at some items of interest.
At The Veatchs Arts of the Book I saw 18th century brocade ("Dutch gilt") embossed and gilt paper, made by Paul Reymund, Nuremberg, described as Pattern no. 36: a floral diaper pattern on rose colored paste paper. It was one of several paper examples on offer.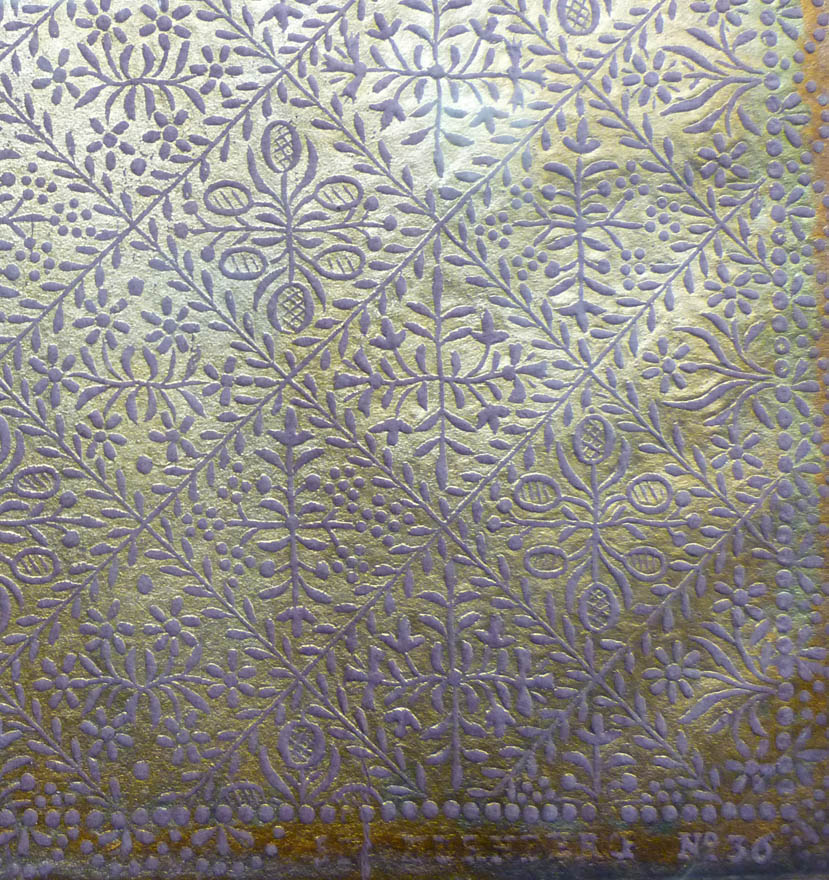 Many of these designs were based on brocades and damasks of the period. As described in Roberts and Etherington's Bookbinding and the Conservation of Books: A Dictionary of Descriptive Terminology, the process "consisted of transferring gold size to the paper by means of wooden plates or engraved rollers, the former first being pressed onto a pad saturated with the size, the latter having the size painted on. When the size on the paper had dried to the correct state, the gold was dusted on, and, when the size was dry, the superfluous gold was brushed off. If it was desired to have the gold raised the size was thickened with yellow ochre or red lead. The method of coloring is unknown, but it may have been done by dabbing or stencilling."
At Bruce McKittrick Rare Books, Andrew Gaub showed me a painted German cameo binding, leather with embossed painted vellum cameos (Ruesner, Summorum regum, Augsburg, 1578).
Also at Bruce McKittrick was a 16th century Flemish panel stamped calf binding (Münster, Institutiones Grammaticae, Basle, 1524), from the library of Parisian bookbinder Léon Gruel (1841-1923).
Sarah Prideaux, in Bookbinders and Their Craft, says the Gruel atelier "always had the highest reputation … for initiative in artistic matters, as well as for irreproachable execution in the detail of its many-sided achievements." In The Bookbinder v. 4 (W. Clowes & Son, 1891), Gruel's notable library is described as "very extensive and contains almost every book on binding that has been published". Gruel is the author of Manuel Historique et Bibliographique de l'Amateur de Reliure, Gruel & Engelmann, Paris, 1887.
Cliff Graubart at Old New York Book Shop was offering a Sarah Prideaux binding of her work Historical Sketch of Bookbinding, London, Lawrence & Bullen, 1893 (first edition). The binding is full crushed dark blue morocco, with elaborate gilt borders, all edges gilt and gauffered. The binding is signed on the rear lower turn-in.

Laid in to this volume is a facsimile of a signed letter by Prideaux, commenting on this binding: "This is one of three designs made for my book on binding. I consider it the best formal design I have made on account of it being both simple & effective. A combination always tried for but not always arrived."
Tom Nealon at Pazzo Books showed me a 16th century psalter, bound in elaborately tooled calf rebacked in pigskin with metal clasps, which were likely replaced when the volume was rebacked.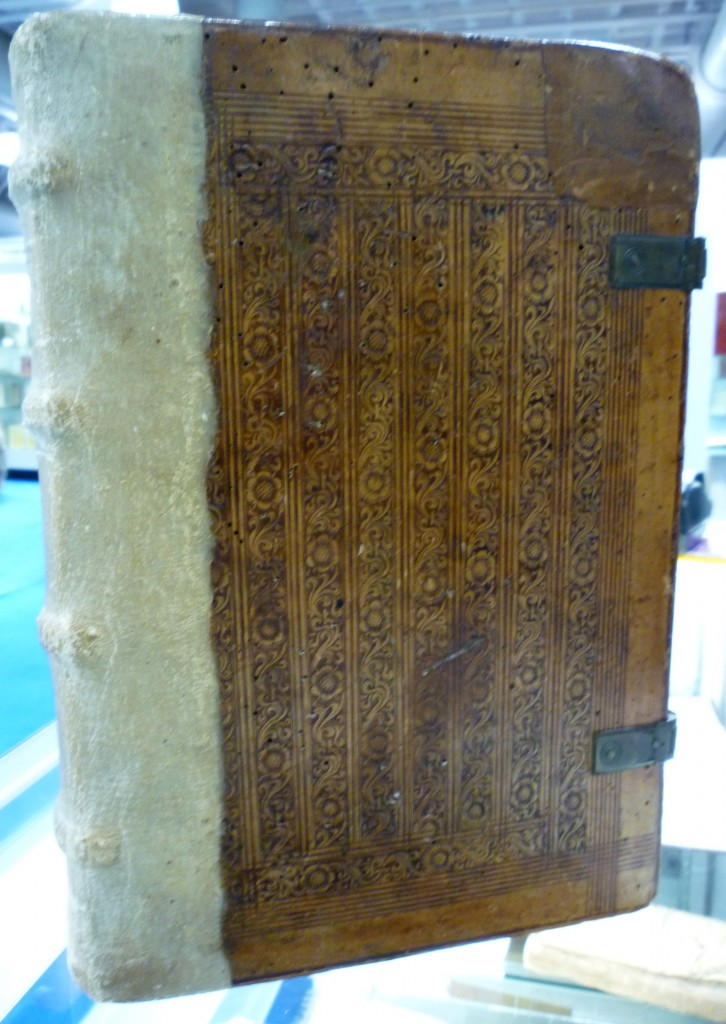 (Potken, Johannes. Psalterium in quatuor linguis: Hebraea, Graeca, Chaldaea, Latina, Koln & Augsburg, 1518; bound with Pelbartus de Themeswar. Aureum Rosariu[m] Theologie ad Sente[n]tia[rum] quattuor libros pariformiter Quadripertitu[m], Augsburg, 1503). You can see some examples of similar bindings at Princeton University Libraries' Hand Bookbinding resource.
Book fairs bring dealers and collectors together for trade and conversation; they allow for the serendipity of discovering something marvelous. Check out upcoming fairs near you: a list of fairs in North America can be found at http://www.bookfairs.com/fairs.html. Some of the other notable fairs worldwide are listed at https://www.ilab.org/eng/news.html.
By Dana Gee