ABM Guild Membership
Become a member of ABM's Museum Guild
Members of the ABM Museum Guild are essential partners in telling the story of the book. Your purchase or renewal of an annual membership allows the only bookbinding museum in North America to preserve the history of western bookbinding while offering the public free, mission-driven exhibits throughout the year. Review the Guild levels below to find your ideal member type and click "Become a Member" to complete your purchase!
Questions about becoming a member? Contact membership@bookbindersmuseum.org.
Click to Become a Member or Renew!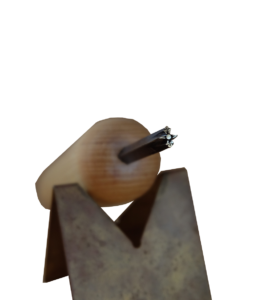 The American Bookbinders Museum is honored to partner with Brien Beidler, bookbinder and tool maker of Beidler Made, to offer ABM Grand Master members a handmade finishing tool. These unique brass instruments bring elegance to a bookbinder's inventory of tools, timeless designs offer you years of use. Member benefit valued at $135.
Click the tool image and select from four different design options – inventory limited so act fast!
Master members receive the ultimate package for beginner book restorers from Sophia S.W. Bogle, expert book restorer. Her book "Book Restoration Unveiled" is the ultimate guide to understanding your options in preserving the value of your books. The starter archival book repair kit, paired with one of Sophia's free foundational online courses, will enable you to repair hinges and joints, strengthen corners, and repair and clean pages. Click the image to learn more! Membership benefits valued at $80
Journeyman members receive two pieces of beautiful marbled paper, handmade by book artist Pietro Accardi (colors/design for each two-piece order selected by ABM staff based on inventory). Accardi was born in Turin, in northwestern Italy, where he studied restoration, marbling, and bookbinding. Now living and working in the Sierra Nevadas, Accardi's work combines marbling and binding techniques. Journeyman members also receive two ABM tickets, redeemable for museum admission or two in-person or virtual lectures of your choice! Member benefits valued at $55

Write in style with an ABM-branded pen, soft to the touch with a rubber coating and just the right weight for smooth writing. The handy stylus tip can be used with mobile phones and other devices. Apprentice members receive this newly-created ABM gift along with one admission ticket, redeemable for a tour of the museum or one in-person or virtual lecture of your choice! Member benefits valued at $20

Are you passionate about books but unfamiliar with the process of bookbinding? The Book Lover Guild membership is the place for you. Book Lover Guild members receive one museum admission ticket and the chance to learn how advancements in bookbinding made it possible for the book to become one of the most treasured cultural resource in history. Member benefits valued at $15