if you like books, history, and volunteering, the ABM wants to meet you!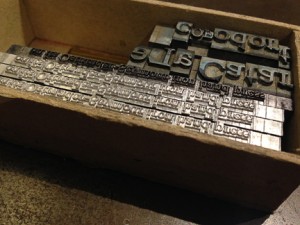 Things are moving along here at the American Bookbinders Museum! Our 19th C. bookbinding equipment is up and running, shelves are being built for the research library, and we're loving our new neighbors (take a look here!) Settling into our Clementina Street space feels like coming home.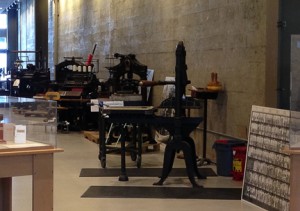 It's to be expected that every day there is something new to be done around the museum: a keepsake to be printed, a prop to be made, a bit of bookbinding lore to be researched. Many hands are needed to make a museum move forward.
That's why we're looking for book-loving, adventuresome volunteers! Are you interested in learning the ins-and-outs of printing with an iron hand press? Perhaps you'd like to bind books and create items for our display cases? Or learn about the history of 19th century production bookbinding? If you've answered "yes!" to any of those questions, we'd love to meet you!
The American Bookbinders Museum is open Monday – Friday, from 10:00 am until 4:00 pm; our volunteer coordinator (Jennie Hinchcliff) is at the museum Monday – Wednesday 10:00 am – 5:00pm. Why not stop by and say hello?
Specific questions about volunteering can be directed to Jennie at: jhinchcliff@bookbindersmuseum.org.
We look forward to seeing you at the museum!