Make 2016 your "Year to Volunteer"!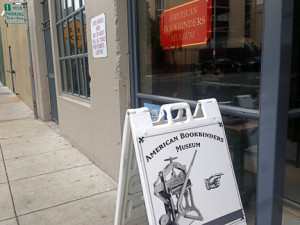 Here at the American Bookbinders Museum, 2016 promises to be full of excitement: with a full roster of exhibitions, events, and programs, the museum will be bustling throughout the year! You'll see the likes of SF in SF (January 2016), the Cartoon Art Museum (February 2016), and the American Printing History Association (April 2016) on our calendar (and in the museum) during the first half of next year.
A good event can be made great in many ways: entertaining lectures, tasty tidbits, a lively crowd. But the one thing that makes a great event memorable are the volunteers helping out with the event itself.
The ABM is always on the lookout for enthusiastic, fun loving folks who are interested in volunteering, whether for one evening or long term. Our museum offers a range of volunteer activities, such as helping out in our bookstore, leading docent tours, or lending a hand with the museum's PR needs.
Additionally, there are specialized tasks which always need tending to: bindery machine maintenance (perhaps you like to tinker), installing upcoming exhibitions (for those of you who love to arrange beautiful objects), or assembling blank books to be sold in our bookstore (calling all bookbinders!) There's something for everyone, no matter your skill set or time frame.
Make 2016 your "year to volunteer" – we'd love to see you at the museum! If you're interested in knowing more send an email to Jennie at jhinchcliff@bookbindersmuseum.org.
Hope to see you in the new year!
–JH